Buying Your First Home in Calgary
If you are preparing to buy your first home, congratulations! This is one of the biggest decisions you will make, but it doesn't have to be overwhelming. With the right preparation and a team of experts on your side, you can enjoy this exciting milestone.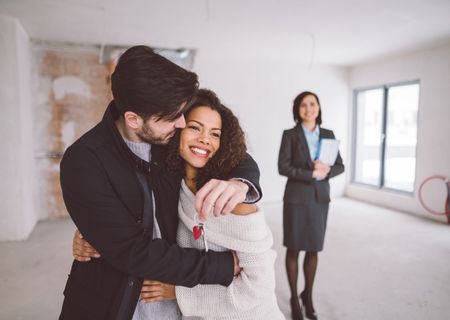 We love to help our clients find their first home in Calgary, and are ready to help you, too. Contact us any time to begin the process.
In the meantime, here are some steps to take and things to keep in mind as you prepare to find your ideal first home in Calgary.
Mortgage Pre-Approval
Before you begin looking for a home, take the step to secure mortgage pre-approval by working with a lender to determine what your budget will be. Without pre-approval, you will be guessing how much you can afford and may not be able to make an offer on a home you love before it's too late.
Pre-approval tells you the interest rate you quality for, the price range of homes you can shop for, and what your monthly payment will be if you buy a home at a certain price. It also allows you to make an offer as soon as you decide you would like to, without the delay of waiting to seek approval after you view the property.
If you need a recommendation for a trusted lender in the area, let us know!
Make Your Wishlist
Making a wishlist will help you begin to narrow down what you are looking for in a home. Consider these questions to help you make the wishlist:
How many bedrooms and bathrooms do I need?
Does the home need to have space for entertaining?
How much maintenance am I prepared to do?
Is a fixer-upper an option, or am I looking for something move-in ready?
Is walkability important to you?
How long do you expect to live in this home, and what changes do you expect to happen in your household during that time?
What kind of outdoor space am I looking for?
In most cases, a buyer will not find a home that meets every single item on the wishlist. Identify the top 3 to 5 priorities on your wishlist to help you make a confident and efficient decision when you are looking at potential homes.
Know the Difference between Wants and Needs
As you shop for a home, it's easy to look at everything on your wish list as a must-have. To help make your home shopping process less stressful, divide your wish list into two categories: wants and needs. Your needs list might include number of bedrooms, wheelchair accessibility, outdoor space for a pet, or length of commute into downtown Calgary. The wants list might include an updated kitchen, a neighbourhood with a pool or lake, a large porch, or a certain architectural style.
You get to decide what qualifies as a must-have or a nice-to-have, but taking the time to decide these things before shopping (with your partner if applicable) will make the process far less stressful and overwhelming.
Choose a Location
The location of your home is one of the most significant factors, because it is the one thing you cannot change about it. Take the time to decide which communities in Calgary are the best fit for the needs of your household, taking into account:
Local schools
Walking paths and outdoor recreation nearby
Commute to work
Access to CRT
Walkability of the neighbourhood
Style of homes in the area
Not sure which area is right for you? Start with our community profiles to get an idea of what each neighbourhood has to offer.
When you're ready to get started, contact us! We would love to help you find your first home.
Newest Listings
September 23, 2023
Contact Your Calgary Buyer's Agent