Is a Multi-Generational Home in Calgary Right for You?
Posted by Greg Kennedy on Friday, November 10, 2023 at 3:12:18 PM
By Greg Kennedy / November 10, 2023
Comment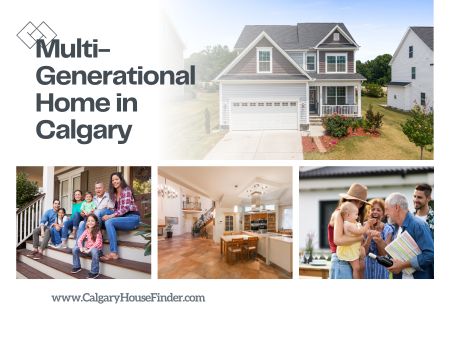 Finding the right home in Calgary is a dynamic decision making process. We understand that you have many factors to consider, working to harmonize the needs of your family, your budget, your personal preferences, and the current market conditions.
One creative solution to housing challenges that is growing in popularity is the multi-generational home. While not a new solution by any means, this traditional style of household is becoming an appealing solution for many Calgarians looks to take advantage of the many benefits of multi-generational living.
If you are looking for houses for sale in Calgary that will work for multiple generations, contact us any time. To learn more about deciding if a multi-generational home will be right for you, keep reading.
Benefits of Multi-Generational Living
Economic Stability
One of the primary advantages of multi-generational living is the potential for economic stability. Shared living expenses, including mortgage, utilities, and even groceries or other household items, can significantly reduce financial burdens for all family members.
Buying a home in Calgary can become far easier when you join forces with another generation. There are many ways the financial investment in the home might be divided up to suit the unique needs of your family, but here are some of the more common solutions:
Dividing everything 50/50, including the down payment, closing costs, monthly mortgage, utilities, and ongoing repairs or maintenance.
One party provides the initial down payment and closing costs, and then the other handles the ongoing costs from there.
The expenses can be divided unevenly based on who might be using more of the space, the utilities, or other features.
Culture and Social Interaction
Living with multiple generations can foster a strong sense of cultural and emotional support. Grandparents can pass down traditions and values, while younger family members offer technological insights and fresh perspectives. This intergenerational exchange can enrich the family experience.
Multi-generational living can combat social isolation, particularly for older family members. The presence of different age groups ensures regular social interaction, reducing feelings of loneliness and enhancing overall well-being.
Caretaking
Over time, any of the members of the household might require some care. There are childcare tasks that can be predictably anticipated, and then the likely potential for the older generation to need more support as time goes one, but even the younger adults in the home may need care after a surgery or sickness.
Living together in one home makes it far more efficient to care for your family members. It becomes easy to make meals for everyone, keep an eye on small children, or make sure a family member who does not drive has a ride to wherever they need to go.
For families with young children, having grandparents or other relatives in the household can provide built-in childcare support. This not only reduces childcare costs but also ensures that children benefit from the guidance and wisdom of older family members. For grandparents who begin to need support with daily tasks, care from a family member might be far more comfortable than a hired support person.
Shared Responsibilities
Multi-generational homes create an environment of shared responsibility, beyond just the shared financial burden. This generally contributes to less stress and more time to enjoy your life. Multi-generational living allows for the distribution of as many household responsibilities as you'd like. Tasks such as childcare, meal preparation, and home maintenance are often shared among different generations, easing the load on any single individual. The same is true for home maintenance, entertaining, and seasonal responsibilities of homeownership.
Choosing the Right House for Your Multi-Generational Home
If you determine that a multi-generational home would be the right fit for you, here are some questions to help you further narrow down the type of property you need:
Do we want to share living space or have our own? What about a kitchen?
What differences in daily routines and lifestyle between generations do we need to accommodate?
How much privacy is important to each of us? Some families find that buying a multi-family home in Calgary is an ideal fit because it still allows each generation to have their own separate space.
If aging in place is a priority for your family, do we need to find a home that is wheelchair accessible?
When you are ready to start looking for your multi-generational home for sale in Calgary, contact us any time.
No Matching Listings
Try a new search, or click below to get notified when matching listings become available.