How to Make Your Small Kitchen Feel Larger
Posted by Greg Kennedy on Friday, January 20, 2023 at 10:56 AM
By Greg Kennedy / January 20, 2023
Comment
If your kitchen is small, there are plenty of ways to make it feel larger and more functional without actually increasing its size through a dramatic remodeling process. With some of these design tips and tricks, you can make your small kitchen look and feel much bigger without knocking down any walls or hiring a renovation team.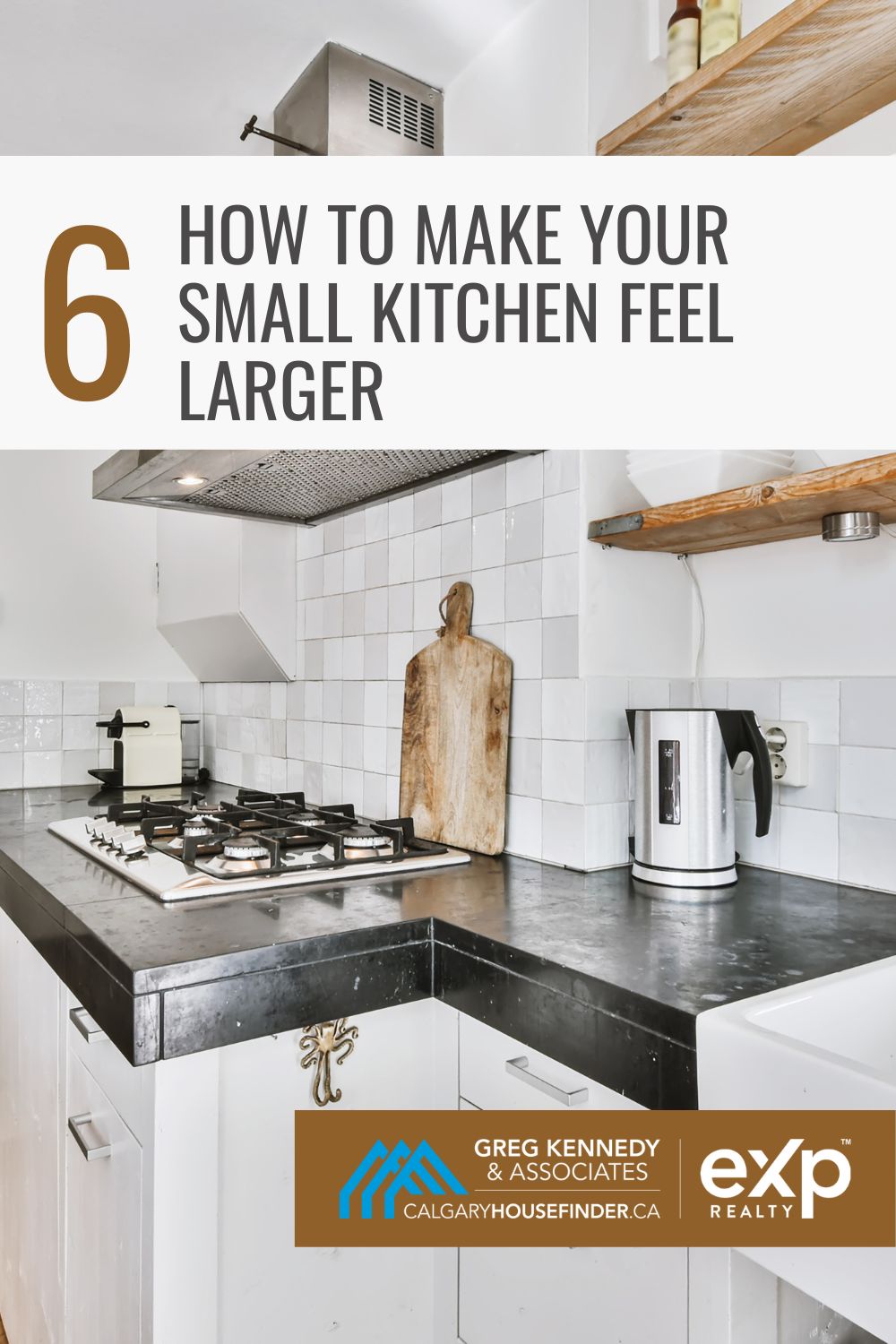 Still in search of your ideal home for sale in Calgary? We can help you find it. Contact us any time to learn more.
To help a home with a small kitchen work for you, consider some of these simple tips and ideas.
1. Keep surfaces clean
Small kitchens tend to feature minimal counter space. When this limited surface space is covered with cooking tools, clutter, or kitchen decor, it can make the kitchen feel even smaller.
Look for ways to keep your kitchen surfaces clear by finding unique solutions for the things that take up your counter space. Some popular ideas to help you do this include:
Get rid of your knife block, replacing it with a magnetic strip mounted on the wall to store knives
Limit your decorative items in the kitchen, looking for artwork to hang on the walls or a runner that can add color rather than placing things on the counter
Find alternative storage for cooking utensils that tend to live in a jar next to the stove by placing them in a drawer or hanging them on hooks
Instead of a fruit bowl on the counter, hang a basket under the upper cabinets
2. Don't waste any space
Identify any unused space in your kitchen, even it is tiny. A narrow nook or cranny between counter and appliance or a small corner of the room can be revamped into functional storage that makes sure you are taking advantage of every square inch in your kitchen.
3. Brighten the space with white, or choose a low-contrast color scheme
The color scheme you choose for your kitchen makes a big difference in how big it feels. Decorating with bold colors and high-contrast palettes can make a room feel smaller while choosing bright whites or low-contrast color schemes can make the space feel much larger than it is.
4. Prioritize natural light
A small kitchen will feel gloomy and crowded without good light. Prioritize letting in as much natural light as possible into your kitchen by choosing bright and airy window coverings, and being careful not to block any windows with furniture or plants.
If you don't have enough windows in the kitchen area, consider installing a solar tube. Similar to a skylight, but much more cost-effective to install, a solar tube will bring light into the kitchen from the ceiling rather than the walls. Sunlight is filtered through a reflective tube from the rafters to provide an abundant natural light source. Contact a professional to see if a solar tube might work for your space!
Additional: 2023 Home Remodel Trends
5. Take advantage of vertical space
Vertical space in the kitchen is often overlooked but can provide a lovely combination of functional storage and beautiful design. If your ceilings are high enough, you may be able to hang a pretty pot rack to free up the cabinets that are currently storing your cookware. You might also find that floating shelves going far up the walls provide both storage and decorate surfaces, as well as drawing the eye upward and making the room feel larger than it is.
6. Declutter regularly and ruthlessly
No matter how beautiful and thoughtful your kitchen design, clutter can quickly ruin it. Take time to regularly declutter, at least once a quarter but ideally once a month. Make sure you have not accumulated duplicate spices, unnecessary cooking utensils, or a pile of mail that can be moved out of the kitchen. Be ruthless with yourself about kitchen clutter to make sure it continues to function beautifully.
To learn more about finding a home you will love in Calgary, contact us any time.