How to Have a Successful Moving Day
Posted by Gregory Kennedy on Tuesday, June 28, 2022 at 10:18 AM
By Gregory Kennedy / June 28, 2022
Comment
After you've found your new home in Calgary and entered into escrow, it's time to start planning the move. Preparing for a move can be daunting, but with the right strategy in mind you can be prepared for a successful, smooth process. We have some tips to help.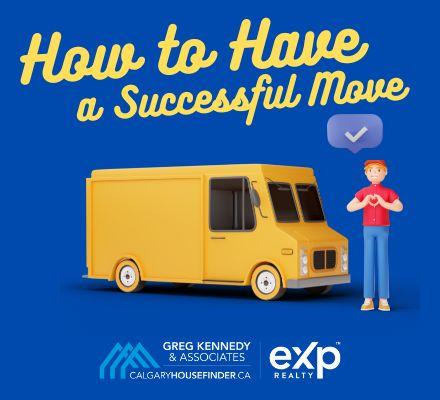 1. Designate an open first box for each room
Be kind to your future, unpacking self by designating and clearly labeling an "open first" box for each room in the house. This will help keep the unpacking process organized and avoid the frustration of spending all day unpacking and still not knowing where something essential is.
For example, in the kitchen your open first box would likely include:
Everyday dishes and utensils
Basic cooking utensils
Coffee maker and filters
Water filter
Anything else you use on a daily basis
By following this method, you can unpack the open first box in each room to get your home to a functioning level, and then feel less stress as you get everything else settled.
2. Ask for help
Moving is not the time to be a hero. If you are moving in town, you likely have a community around you that can help with the unpacking, moving, and unpacking phases. If you are moving to a new community, at least you can recruit help during packing phase.
This might mean asking for help with the actual packing and labeling or something else, like watching your kids, running some errands, or dropping off a meal.
3. Establish a labeling system
Labeling your items as they are packed is a gift you are giving to your future self. Set up a labeling system that makes sense to you and stick to it. One method we love is the color method. With colored markers, tape, or construction paper, assign a color to each room and use that color to label each item. For example, if your kitchen's color is green, attach a green label to everything, box or otherwise, that should be put in the kitchen. Then, when you get to the new house you can simply put a sign in each room showing which color it is and everyone will unload your belongings in the room where they belong.
Make sure to label not just where the box goes, but what it inside. It doesn't have to be a full, itemized list, but making note of the main items or significant things you know you will be looking for is a great way to stay sane while unpacking and settling in.
4. Leave the right things behind
When you move out, make sure to leave nothing behind by doing a thorough sweep of the home. However, there are a few things that need to be left that you don't want to forget, like keys and garage door openers. Check with your realtor to be sure there are not any other items that are included in the contract that should be left behind for the new owners.
5. Outsource
If it's in the budget, outsource some of your moving tasks. The two big ones are hiring professional movers and professional housekeepers. Even small things like deciding to order take out for a week can outsource some of your work and make a big impact. Plan to outsource as many items on your to-do list as possible. The less labor you are personally responsible for, the lower your stress level can be.
6. Pack an overnight bag
There's nothing worse than arriving to your new home, spending the day working on unpacking, and then trying to crawl into bed and having no idea where your pajamas, toothbrush, or phone charger is. Pack an overnight or weekender bag for moving day with all the things you will need for the first couple of days in the new home. This way, you won't have to stress about how settled in your are to be able to get some much needed rest.
For more information about moving to Calgary, contact us anytime. We are here to help!