Home Renovations that Won't Add Value (And Alternatives to Consider Instead)
Posted by Greg Kennedy on Monday, April 17, 2023 at 12:45:37 PM
By Greg Kennedy / April 17, 2023
Comment
Renovating or updating your home before selling is a popular choice to maximize your potential profit and attract your ideal buyers. Getting your house ready to look its best is a great idea, but keep in mind that not all home renovation projects are equal. Some projects have a minimum ROI, and might not be the best use of your resources before listing your home.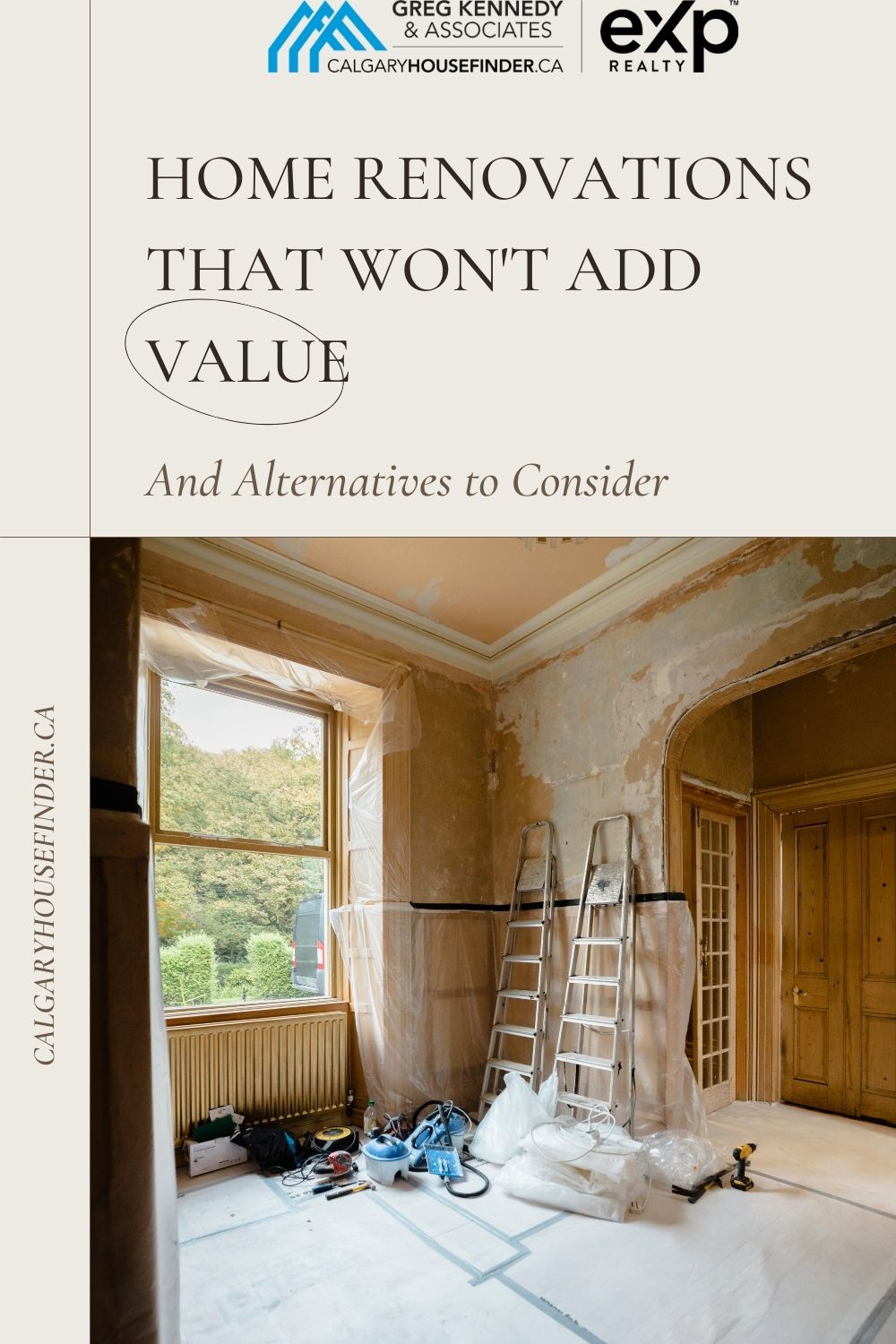 One of the keys to a successful home selling journey is working with a qualified, knowledgeable, and trustworthy real estate agent. If you are in the search of the right agent in Calgary, or want to know more about the market in your area, contact us any time. We are your source for all Calgary houses for sale and resources for home sellers.
To guide your preparation process, we have a list of some home renovations that won't add value, and what you can do instead.
1. High end fixtures
If you are looking to add new lighting fixtures or hardware to the home to update the look before listing, pay careful attention to how much you invest. In most cases, you won't see a major investment in fixtures bring the selling price up by much.
Updating fixtures can be a great idea for staging and a quick update, but look for affordable choices that keep the home from looking dated without requiring a significant investment. Choose something timeless and durable, which will be attractive to a wide range of potential buyers without breaking the bank.
2. Adding an outdoor kitchen
While an outdoor kitchen is definitely a fun perk, the return on investment you can expect from this project likely won't take it worthwhile. Instead, invest that money where it will make a big impact on your home's value by updating the interior kitchen.
When you look for places to update your kitchen before selling, focus on high quality, timeless updates. Avoid investing major money into speciality appliances or niche features, and don't look for cheap quick fixes either.
3. New carpets
If your home has carpets that are old, stained, or outdated, you likely want to replace them before selling. However, replacing old carpet with new in the living areas of a home is often not worthwhile. Instead, replace carpets with hard flooring in a neutral tone, either hardwood or a quality LVP product.
If those flooring options are beyond what you want to invest, consider instead offering a credit to buyers to offset the cost of replacing carpets. Most buyers are not looking for homes with a significant amount of carpet, so it makes more sense to offer something from your home's equity at closing that allows the buyers to replace the carpet themselves with what they prefer.
4. Converted garage
It's tempting to consider converting your garage into additional living space, extra bedrooms, or a hobby space. However, most buyers are looking for a garage. If you are only doing this renovation to make your home appear larger, keep in mind that the investment required to convert your garage is likely not going to pay off when you sell.
Instead, get your garage in its best shape ever. Consider refinishing the floor and make it as clean as it's ever been. Move as many of your belongings as you can out of the garage before showings to allow it to look as clean, tidy, and functional as possible.
To learn more about selling your home in Calgary, reach out to us at any time.