5 Design Tips to Make Your Living Room Extra Cozy
Posted by Greg Kennedy on Monday, October 31, 2022 at 1:42:58 PM
By Greg Kennedy / October 31, 2022
Comment
No matter the size of the space you're working with, there are plenty of creative ways to make your living room extra cozy this season. With a few intentional touches you can transform your home's living space into something you love, especially important as you find yourself spending more time inside during the colder months. Keep reading for some of our favorite ideas to add a healthy dose of coziness to the space.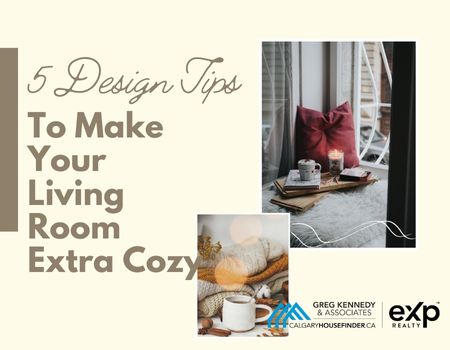 Are you still looking for your dream home? It's not too late to find it before the holidays. To learn more about homes for sale in Calgary, contact us any time.
Luxe Fabrics
When we think of design, we often consider the colour palette of the room. Don't forget that texture makes just as much of an impact on the design as the colour. By adding luxe fabrics with cozy textures, you can totally transform the way a space feels, both figuratively and literally.
Not sure where to add in these new textures? Here are some ideas:
Look for throw pillows and blankets in a chunky knit or faux fur
Swap out window coverings for something velvet or quilted
Replace your area rug with something higher pile
Add in an accent chair, ottoman, poof, or bench in velvet, faux fur, or other cozy textiles
Emphasize Historic Architecture
If you live in a home with a rich history, there may be historic architectural elements that you can highlight to amp up the cozy vibes of the space. Arrange furniture and lighting in a way that showcases features of the room that have been with the home since the beginning, like a fireplace, millwork, unique carpentry, or original windows.
Oversize Furniture is Inviting
Consider swapping out your sleek living room couch for an oversized sofa, which can be just as chic while being far more welcoming and cozy. A large sectional or deep-seated sofa say "curl up with a book by the fire" in the most inviting way. Of course, many people are not looking for a major furniture piece that is seasonal, so make sure you find something that you will still love again in the spring when you swap out pillows and throws for a more bright and airy feel.
Small Touches
Sometimes the best way to make a space feel cozy is all about the little details. For example, adding coasters and buying a set of mugs or tea cups that coordinate with the design of the room is a great way to remind yourself to have a friend over for coffee. You can set the mugs out so you're always ready to curl up with a book and a cup of something warm.
Wintry coffee table books or framed personal photos from fall and winter are wonderful ways to add a subtle touch that is not overtly seasonal.
Be Mindful of the Lighting
The lighting in a space is one of the most influential design elements. Even if you love the lighting in the summer and spring, you may find that you don't love it as much as the days grow shorter. Make sure the space feels extra cozy by adding in lamps and candles that can create a warm ambiance.
To learn more about loving your home, or finding your ideal home for sale in Calgary, contact us any time!