Build or Buy? Which is the Best Option in Calgary?
Posted by Greg Kennedy on Wednesday, November 8, 2023 at 1:15:04 PM
By Greg Kennedy / November 8, 2023
Comment
Make the Decision to Build or Buy Your Next Home With This Guide
Buying a new home is one of the most exciting life changes a person can go through, but the process can also be challenging due to the sheer amount of things to consider. When thinking about where your new property will be located, the first step you'll need to take is to decide whether to build from scratch or purchase an existing home. Both have their own pros and cons, depending on what your needs and budget are, so it's important to take your time with this process. If you're interested in getting into the real estate business with this home purchase, you might also consider looking for some resources that can help.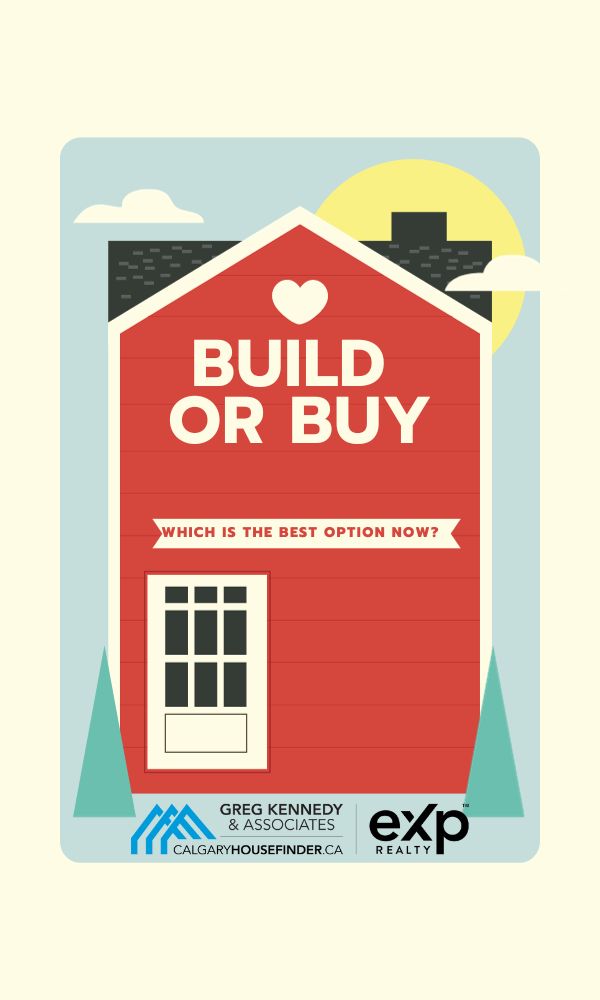 Today, Calgary House Finder outlines a few things to think about when making a decision about buying an existing home or a new build.
Building your own home is a financial give-and-take
While building a home is often more expensive than buying an existing property due to material and labour costs, the cost of the land itself, and varying deposit costs, it could potentially save you money over time once it's built. This is because you can make energy-efficient decisions during construction, such as adding solar panels or an energy-saving HVAC system, and because you can choose the windows, doors, and other details for the home that will keep it protected from the elements throughout the seasons. Not only that, you'll get brand-new appliances, including a hot water heater, and these can also help you reduce your carbon footprint.
Buying an existing home saves time
One of the biggest drawbacks of a new home build for many homebuyers is the length of time it takes to complete. Even under the best of circumstances, construction timelines can be unreliable and, depending on your current living situation, you may find yourself laying out money for both spaces for quite a while. Buying an existing home is much quicker; in fact, in the current market, you'll probably need to make pretty fast decisions and have a pre-approval for your loan ready to go so you can make an offer when you find a property you love. Check out the cost of living in your area and take note of the average home sale prices.
Think about your long-term goals
It's crucial to consider your long-term goals when making a decision to purchase a new build or an existing home; how long do you plan to live there? Is your career sustainable? Do you love the city you're in? Do you plan to expand your family? If you can see yourself selling down the road, buying an existing home may be the best route, as it can be more difficult to sell a custom-built house due to the higher price point and the personal design choices. Thinking about these details will give you peace of mind when it comes to the future.
The Loan Process
Understanding the mortgage process for building a home is different from getting a loan to buy an existing one. If you're building, you might get a construction loan that only requires interest payments at first, changing into a regular mortgage after the house is finished. For buying, you get a mortgage based on the home's value and start paying it back right away. Getting a loan to build can be tougher because the house isn't there yet, so it's riskier for the bank. You'll also have to keep track of when the bank releases money to pay for each part of the building process. Delays in construction can affect when and how much you have to pay.
Consider investing in a home warranty
Another way to get peace of mind is to ensure that your home is protected, whether it's a custom build or an existing property. Investing in a home warranty will give you coverage on appliances, the plumbing system, and even the HVAC system, so you won't have to worry about laying out money for expensive repairs on top of the cost of the house. Homeowner's insurance will only cover damage to the structure, accidental injury, and theft, but a home warranty will take care of costly, unexpected breakdowns. Looking into home warranty plans is an easy way to protect your home and keep everything running smoothly no matter how long you plan to be there.
Deciding between a new build and an existing home can be difficult for some, so do some research and make sure your budget and credit are all they can be before getting started. Utilizing resources like a home warranty will help you protect what's yours for years to come.
Take a look at some of the newest new construction homes in Calgary here first or call us for answers to all your Calgary real estate questions.