7 Spring 2022 Events in Calgary
Posted by Gregory Kennedy on Saturday, March 19, 2022 at 9:35 AM
By Gregory Kennedy / March 19, 2022
Comment
After two years of canceled events and rescheduled festivals, Calgary is ready to host many events this spring. Even with a little snow still on the ground, everyone is ready to welcome spring with these special upcoming events, including something special for all ages to enjoy.
We have a list of 7 2022 spring events in Calgary you won't want to miss!
1. Michelangelo Sistine Chapel: The Exhibition
The traveling Michelangelo exhibit that has inspired and delighted people all around the world is coming to Calgary this spring, from March 3rd to April 15th. The immersive gallery will feature licensed high definition photos of works of art from the Sistine Chapel, an audio tour, and informative signage to allow guests to fully experience the inspiring work of Michelangelo.
2. Jurassic Quest
Jurassic Quest is coming to Calgary, with their massive lifelike animatronic dinosaurs, from April 8th to 10th. North America's largest dinosaur expo is exciting for guests of all ages. This educational event was designed by leading paleontologists to create the most accurate examples of prehistoric creatures. The youngest guests will love the fossil dig and themed bounce houses, making this a perfect family day out.
3. Lilac Festival

Calgary's beloved Lilac Festival is back this year with food, drinks, live music, and local vendors to enjoy on a sunny springtime Sunday. The event is free and will take place from 10:00 to 6:00 on June 5th.
Kicking off the season of festivals and open air markets in Calgary, the Lilac Festival showcases over 500 vendors and is the ideal place to discover your newest favorite musician, craft vendor, or community organization. There will be over 30 stages for live music performances and a kid area with bounce houses.
4. Calgary Comic Expo
Showcasing local and nationally loved vendors, costume contests, workshops, and favorite celebrities like Elijah Wood and Michael Rooker, the Calgary Comic Expo will take place from April 21st to 24th. This year's expo is expected to be bigger than ever, with tickets starting at $22. The expo is a family-friendly event with photo ops and attractions for fans of all ages.
5. Alberta International Beer Festival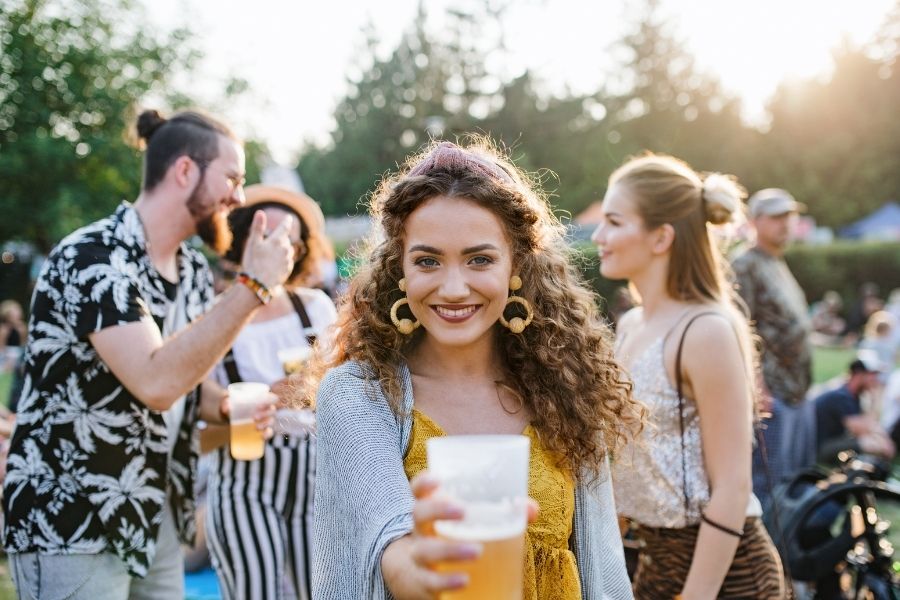 On May 6th and 7th, Calgary will host the Alberta International Beerfest, Canada's largest beer festival. With over 700 beers from over 200 breweries, you can do some serious shopping and tasting. Attend a seminar to learn more about cooking with beer or become a master brewer, or enjoy the festival's food and beer vendors with tastings and pairings to try.
6. Foodies in the Park
For this season of Foodies in the Park, you can enjoy an all new set of culinary experiences in garden locations around Calgary, with private dining in outdoor domes providing privacy and protection from the elements while taking in the beautiful scenery.
Purchase tickets for a date you and your special someone will never forget, for a Foodies in the Park event between April 22nd and May 22nd.
7. YYCaesarFest
Created by Walter Chell In 1969, the Caesar is Calgary's signature drink, so it's only fitting that a festival will take place to celebrate it! This spring as you fill your calendar with events in Calgary, consider grabbing tickets to YYCaesarFest on May 19th or 20th.
Hosted at The Stampede, the festival will feature over 40 variations of the signature cocktail along with live music, craft beer, and local food vendors. If you can't make it to the festival, Calgary hosts Caesar Week in the following seven days among many local restaurants and bars, showcasing special menus and discounted cocktails.
For more information about becoming a resident of Calgary, contact us anytime. We would love to help you find out how living in this vibrant city might be perfect for you!