7 Important Deck Maintenance Tips
Posted by Gregory Kennedy on Tuesday, September 20, 2022 at 9:52 AM
By Gregory Kennedy / September 20, 2022
Comment
With all four seasons to enjoy in Calgary, homeowners with a deck should keep these maintenance tips in mind to extend the life of the deck. With the right care, a deck can last many years and continue to contribute value to your life and your home.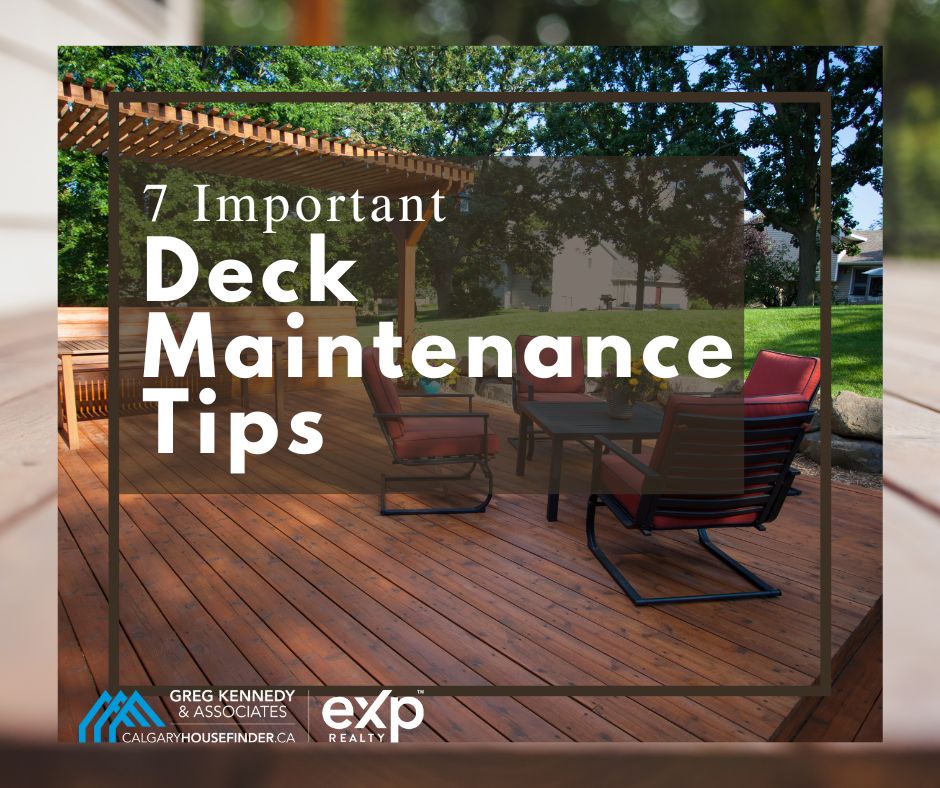 Regular Cleaning
Keeping your deck clean and dry is one of the most underrated ways to extend its life. The simple act of keeping the deck clean will allow you to stretch the life of your deck significantly. Sweeping debris from the deck is important, and power washing can also be a great way to clean the deck.
Take care when pressure washing to use the lowest setting, as a high power pressure washer and strip or etch the material of the deck. Especially if your deck is made of real wood, you may be better off with a regular garden hose and spray nozzle to avoid damaging the deck while cleaning it.
Painting, Staining, and/or Sealing
Proper painting, staining, and/or sealing will keep your deck looking newer longer. After a thorough cleaning, consider applying borate to prevent algae buildup in the wood. The borate needs to dry for a few days, and then you will be ready to paint, stain, or seal the deck. Most experts recommend oil-based stains or paints, as water based products wear more quickly. For best results, plan to paint, stain, or seal every two to three years.
Manage Pests
All deck materials can harbor pests, but wood decks in particular can become home to a variety of pests, including bark beetles, carpenter ants, carpenter bees, wood borers, snakes, and rodents. If you are building a new deck, consider choosing a wood that acts as a natural repellant to insects, like redwood, cedar, or cypress.
Replace Broken Boards
Decks endure significant environmental stress from sun, rain, snow, temperature shifts, and normal wear and tear. It is common to find that boards will need to be replaced over time as they contract and expand, and even crack. As you inspect your deck for boards that need to be replaced, don't forget to pay attention to railings as well.
Related: How to Enjoy Your Deck All Season Long
Avoid Grilling
While the deck may seem like the perfect place to set up your grill, but think twice before you do. The materials your deck is made of, including not only the wood, but the chemicals that treat the wood and any oil-based paints and stains, are highly flammable. Many homeowners have experienced unfortunate emergencies due to placing the grill on the deck, so look for an alternative location on the property that is less of a fire hazard.
Keep Moisture Away
Moisture is the enemy of your deck. Some sources of moisture are unavoidable, like rain and melting snow, but others can and should be avoided. Don't leave damp towels, dog water bowls, kiddie pools, or other standing water on the deck. The same goes for potted plants. If you have plants on the deck, move them to the lawn while watering them and bring them back to the deck after they have thoroughly drained.
Pay Attention to Capacity
If you love to entertain, make sure you know what the weight capacity of your deck is before you throw a big party. By either reinforcing the deck to increase its capacity or making plans to host in more spaces than the deck alone, you can ensure the safety of your guests, yourself, and your home.
We love to enjoy all our seasons here in Calgary and maintaining a deck can help you get the most enjoyment out of it. For more information on maintaining a deck browse our homeowner blog or for all Calgary real estate and homes for sale in Calgary, contact us below.