5 Ways to Boost Your Curb Appeal This Spring in Calgary
Posted by Greg Kennedy on Friday, February 24, 2023 at 1:07 PM
By Greg Kennedy / February 24, 2023
Comment
As springtime arrives, but colder temps keep things looking wintry in Calgary, you may be wondering how to boost your home's curb appeal. Consider these tips to help your home put its best foot forward as you list it on the market.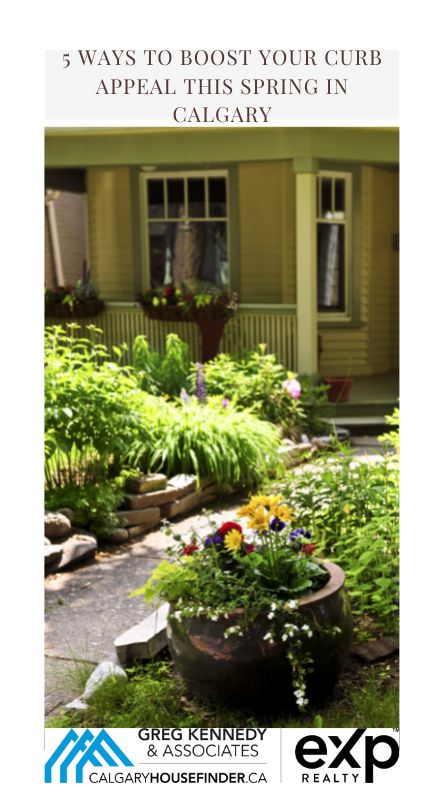 Working with a team of local experts is the best way to ensure a successful home selling experience. To learn more about selling your home in Calgary, contact us any time!
Ready to begin preparing your home for sale? Start with these 5 tips.
1. Start with tidying
Even before you can fill your front yard with a lush green lawn and springtime blossoms, you can get it looking its best by tidying everything up. Make sure there is no litter or debris that has accumulated in the yard during winter storms, and power wash any walks that have residual sand, salt, ice melt, or dirt on them.
Tidy up garden beds by making sure plants, whether evergreen or dormant, are trimmed. Remove dead leaves and twigs that may have collected in the beds over the past few months. The garden beds will also benefit from a neat border, like adding pavers or edging, if they do not currently have one.
2. Add cheerful pops of colour
There may not be much colour in your front yard during the months between holiday decor and springtime flowers. Find other places to add a cheerful pop of colour, like fresh pillows on patio furniture, a new welcome mat, pots for evergreen plants, or a tasteful seasonal wreath on the door.
3. Install landscape lighting
Especially during the shorter winter days, lighting can make all the difference. Install some landscape lighting to make your home safer and more attractive for potential buyers who view it after sunset.
Line pathways with lanterns to make the walk to the door obvious and clear. Add spotlights to shine on the house or up into trees for a high end look that makes a big statement.
4. Make sure there are some evergreen plants out front
If you do not already have some evergreen trees or shrubs in the front yard, consider adding a few. This is a subtle way to help the home look more fresh and welcoming, and looks much better than obviously faux flowers when you are trying to add a curb appeal.
If there is no obvious place to plant some evergreen shrubs in the front yard, consider potting some to place on the porch or patio instead, or set two narrow evergreens in pots on either side of the front door.
5. Make any necessary repairs
It is always important to address broken or damaged parts of the home before selling. If you have worn out or damaged things in the front yard, they will be even more obvious in that pre-spring season. Check on these commonly worn-out features to make sure yours don't need any tune-ups or replacing:
Mailboxes
House numbers
Railings on stairs
Shutters
Tree limbs
Cracks in driveways and walkways
Ready to begin preparing your home in Calgary to sell? Contact us any time to find out how we can help.