5 Things to Eliminate from Your Bedroom
Posted by Greg Kennedy on Monday, May 8, 2023 at 1:21:33 PM
By Greg Kennedy / May 8, 2023
Comment
A cluttered bedroom is a common nuisance, even in an otherwise tidy home. Many people find that their bedroom tends to be less than relaxing, when it should be the most peaceful place to retire at the end of the day. If you are looking for ways to declutter and optimize your bedroom, consider eliminating these 5 things from the space.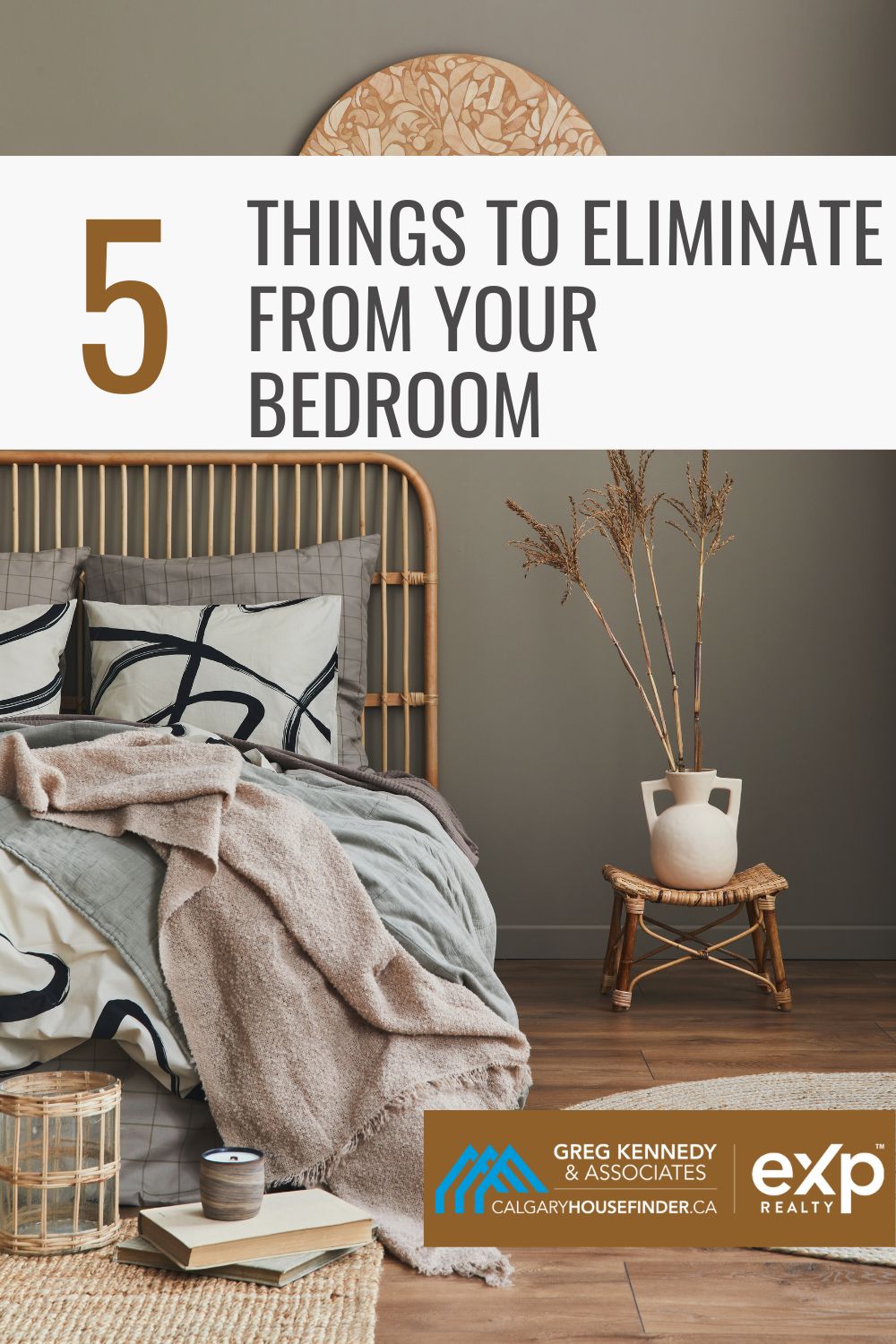 1. Uncomfortable bedding
You should love crawling into your bed at night. Cheap quality or uncomfortable bedding should be one of the first things to go if you don't. Even if you loved the bedding when you got it, be realistic about how long it has been and the wear and tear on the fabric. Look for snagged threads, sagging bedskirts, dingy fabric, and stains as signs that it's time for a refresh.
Remember: when you upgrade your bedding, avoid the temptation to hang on to the old stuff "just in case." Unless you really do need it, let the old stuff go and avoid adding to the clutter by stuffing your old bedding in valuable storage space.
2. "The Chair"
Nearly everyone has done it: you place a chair in your bedroom, thinking it will look nice and maybe you will enjoy drinking your coffee or reading a book in your bedroom chair each morning. Instead, it becomes the place you toss clothes at the end of the day when they are not quite dirty but you don't feel like hanging them back up.
The Chair is a recipe for clutter. Be real with yourself: how often do you actually sit in The Chair? If it's mostly a catch-all zone for clothes, it's better to get rid of it altogether because it's only enabling a bad habit that add to the cluttered atmosphere.
3. Too much clothing
In some bedrooms, clutter is created by an unnecessary volume of clothing. Take some time to go through your closet and declutter. If you cannot comfortably fit all of your clothes in the closet and dresser, it's time to let some go.
4. Paperwork
Paperwork has a way of accumulating in a disorganized and unattractive way. If you are like many people, you have a stack (or two) of mail, homework, receipts, and other paperwork that builds on the dresser. You may not even be sure that the paperwork is important, but it's building up to add to the cluttered and stressful feeling in the bedroom.
Take some time to go through the stack and determine whether each item is worth filing, scanning and saving, or shredding. Consider adding a small, decorative filing cabinet to avoid building the pile back up again.
5. Fitness gear
Unless absolutely necessary, avoid storing fitness gear in the bedroom. Exercise equipment can quickly become cluttered and unsightly, and does not contribute to the relaxing atmosphere a bedroom should offer. If you can move your exercise equipment to the garage, basement, or another place in the home, your bedroom will feel all the more like a peaceful getaway.
Ready to begin searching for a home with your ideal primary bedroom? We can help you find houses for sale in Calgary that meet your style, preference, and budget. Contact us any time to learn more.