4 Living Room Organization Ideas
Posted by Greg Kennedy on Tuesday, December 6, 2022 at 9:51:50 AM
By Greg Kennedy / December 6, 2022
Comment
One of the best ways to enjoy your home more is to implement organization systems. When your home is organized, you will find yourself spending less time on housework and more time enjoying the space with the ones you love.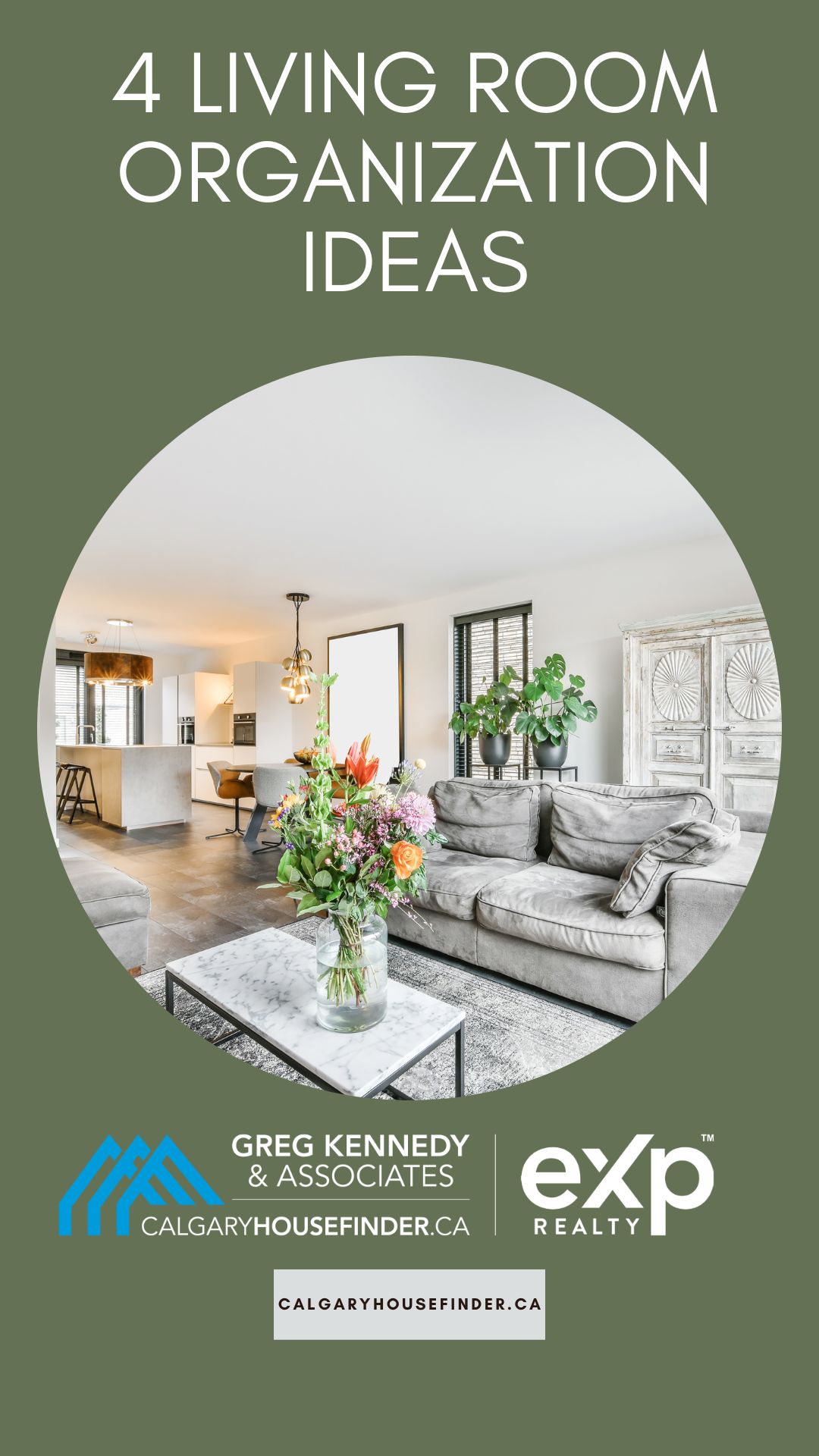 Still looking for homes for sale in Calgary to find that ideal property? We can help! Contact us any time to learn more.
Living areas are often a source of organizational challenges. If you're looking for tips to get your living room organized, check out these ideas.
Begin with Decluttering
The first step in organizing any space is decluttering. Consider everything that is currently housed in your living area and whether you really want it to be there. Make a donation and disposal pile, and consider a third option: the displacement pile. There may be some belongings in the living room that you do want to keep, but simply don't want to keep in that space.
Make sure that everything you plan to store in the living room is something you find either beautiful, practical, or both. To make the space equally functional and comfortable, eliminate as much clutter as possible.
Focus on Functional Furniture
As you design your living room, prioritize furniture that is not only a beautiful fit for the aesthetic but a functional solution as well. This might mean different things depending on how you use the space. Some ideas for multi-functional living room furniture might be:
A pull-out sofa for slumber parties or overnight guests
Ottomans and benches with built-in storage for extra blankets
End tables and coffee tables without any sharp edges if you have small children in the home
Rocking chairs or recliners depending on the preferences and needs of your household
Storage furniture for the games or activities you tend to enjoy in the living room
Invest in Built-Ins
One of the best ways to dramatically increase the design appeal, functionality, and resale value of your home is by adding built-ins. Investing in custom storage furniture will elevate the look and the practical appeal of your living room. Consider a built-in that can house your TV and other electronics, with doors to hide them away when not in use. There may also be a wall that is perfect for built-in bookcases, which can double as functional storage and decorative space.
Pay Attention to Catch-All Zones
Do you have a tendency to toss your purse on the couch at the end of the day, or store your clean laundry on the corner chair until you get around to folding it? Recognize your natural tendency to create catch-all zones in the living room and think about creative solutions for those spaces.
For example, an attractive coat rack placed near the place you usually sling your jacket and work bag will be an easy transition to a more organized look. If you know your kids tend to leave their homework out on the coffee table, buy an attractive basket or bin that can house these items to store them in a more organized and attractive way.
The key is to work with your natural tendencies rather than creating unrealistic rules that are unlikely to be sustainable for your household.
To learn more about finding your ideal home in Calgary, contact us any time.